Bronnen zoeken en beheren

everything is search
wees je bewust van het 'deep web'
en van de 'filter bubble'
efficiënt zoekmachines gebruiken (zoekoperatoren, alternatieve zoekmachines)
zoek in de toekomst
hoe zoek je naar beelden
historisch onderzoek met databanken
crap detection
zoekstrategie
beheer je bronnen met zotero
1. The Deep Web
Denk "databank"
Deep Web resources classified (wikipedia):
Dynamic content: dynamic pages which are returned in response to a submitted query
Unlinked content: pages which are not linked to by other pages
Private Web: sites that require registration and login
Contextual Web: pages with content varying for different access contexts
Scripted content: pages that are only accessible through links produced by JavaScript
Non-HTML/text content: textual content encoded in multimedia files or specific file formats not handled by search engines (al zijn er minder en minder formaten die niet kunnen geconverteerd worden naar html en zoek doorzoekbaar gemaakt)
http://www.lib.berkeley.edu/TeachingLib/Guides/Internet/InvisibleWeb.html: deze tekst geeft duidelijk weer wat bedoeld wordt met het 'deep web' met betrekking tot databases en geeft ook aan wat de oorzaken en oplossingen zijn.
http://battellemedia.com/archives/2012/08/what-is-search-now-disjoined.php ; "non-searchable data" hoeft niet enkel databases te betekenen, wat met info op allerlei andere (sociale media )platformen?
Google's core model – built on the open, linked world of the web – is under threat from the advance of the iPhone and the app, the Facebook and the Path, the automobile console, the Xbox, the cable box, and countless other "unlinked" digital artifacts
2. The Filter Bubble
aka. gepersonaliseerd zoeken
3. efficiënt zoekmachines gebruiken
zoekoperatoren

site: | inurl: | filetype:
bijvoorbeeld: `site:mediawiki.arts.kuleuven.be/geschiedenisjapan Nobunaga
bijvoorbeeld site:japanologie.arts.kuleuven.be filetype:pdf Symposium

alternatieve zoekmachines
4. Zoeken in de toekomst
hashtags
email alerts
zelf draaien met IFTTT
toc alerts

a Current Awareness Service (CAS) where you can discover the newest papers coming directly from the publishers as soon as they have been published online.

citation alerts

A citation alert notifies you by email whenever a record you choose has been cited by a new record that has been added to the database.
rss feeds
5. Beelden zoeken
Je weet best iets over formaten

belangrijkste bestandstypes
verschil raster en vectorformaat
visualiseren van data

Waarop kan je zoeken?

metadata: trefwoorden, tags, beschrijvingen (men zoekt dan naar woorden die in de buurt van het beeld voorkomen, of in onderschriften van beelden of in links ernaar)
watermerk
copyright licentie
inhoud (Content-based image retrieval)
vorm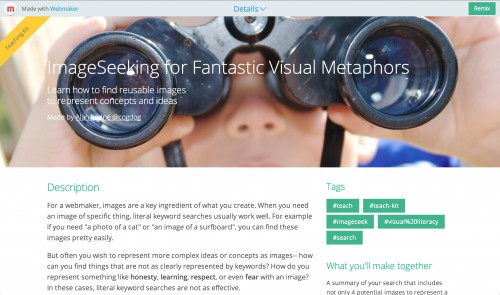 Reverse image search

uitzoeken waar een beeld oorspronkelijk vandaan komt
uitzoeken waar dat beeld overal gebruikt wordt
hogere resoluties vinden
attributie bepalen
Interessante sorteermogelijkheden: resolutie, aantal veranderingen, kleuren, licentie
6. Databanken
japan in combinatie met website en databank
Grote platformen tijdschriften
[BAS via Ebscohost](http://web.b.ebscohost.com/ehost/search/advanced?sid=d4209aab-0aaf-40f3-a1c8-1f2b47dc3ed5%40sessionmgr120&vid=0&hid=129
Tips
link JSTOR en MUSE
BAS enkel metadata, geen full text - onderscheid leren herkennen
dieper zoeken dan LIMO
vaak full-text ook niet in de grote platformen, naar het tijdschrift zelf gaan
vind je het niet in LIMO zoek dan in unicat.be, of worldcat
sainie: CiNii books en CiNii articles
7. Fact Checking & Crap detection
Check de aparte pagina.
8. Samenvattend: zoekstrategie
Note: maak van de gelegenheid gebruik om jezelf een zoekstrategie te leren uitbouwen, werk aan je skillset en documenteer die
aandacht voor trefwoorden, die bepalen namelijk voor een groot stuk de kwaliteit van je zoekresultaten.

leesfiches

een noteer strategie hoort daar ook bij
combineer het gebruik van zotero met je search-oefeningen
je verzamelt geen bronnen, maar nota's
en zo snel mogelijk een outline van je werkstuk zodat je nota's kan kaderen

begin

doe eerst een rechtlijnige search via zoekmachines en databanken
dan verder zoeken via de literatuurlijst van gevonden bronnen
vergeet niet in de toekomst te zoeken
identificeer sleutelbronnen en auteurs (netwerk)

Iteratie: herhaling van de vorige stappen: vind nieuwe trefwoorden en zoek daarmee opnieuw

zoek diep, de beste resultaten staan niet noodzakelijk op de eerste pagina